Food stamp use rises to record 45.8 million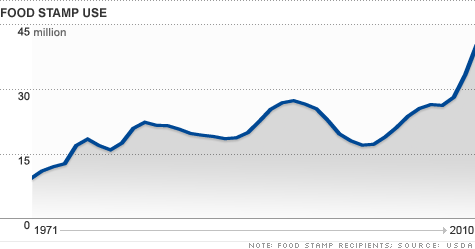 Nearly 15% of the U.S. population relied on food stamps in May, according to the United States Department of Agriculture.
The number of Americans using the government's Supplemental Nutrition Assistance Program (SNAP) -- more commonly referred to as food stamps -- shot to an all-time high of 45.8 million in May, the USDA reported. That's up 12% from a year ago, and 34% higher than two years ago.
The program provides monthly benefits to low-income individuals and families, which they can use at stores that accept SNAP benefits.
To qualify for food stamps, an individual's income can't exceed $1,174 a month or $14,088 a year -- an amount that is 130% of the national poverty level.
The average food stamp benefit was $133.80 per person and $283.65 per household in May.
The highest concentration of food stamp users were in California, Florida, New York and Texas -- where more than 3 million residents in each state received food stamps in May.
The rise in food stamp use comes as the U.S. job market continues to sputter, and food prices across the country climb.
Unemployment benefits at risk
But a spike in food stamp users in Alabama may have been responsible for pushing total usage unusually higher in May. Following a series of devastating storms, many residents received disaster assistance under the Disaster Supplemental Nutrition Assistance Program, the USDA said. Food stamp use in the state surged from 868,813 in April to 1,762,481 in May.
"USDA does not anticipate that trend of increase to continue, given that it appears to represent a response to a single disaster," the USDA said.
(Story continues below...)
---
We are in a dire situation in this country today, and small publications like this one do not have the huge resources of George Soros pouring in like our liberal friends.

Worth Reading is

not funded

by the government like NPR.

Worth Reading

is not

funded by the government like PBS.

Please become a supporting member and help fund this ongoing effort to provide you with news and commentary relevant to our divided nation.

Help us get back our simple conservative values. Remember, the Bigger the Government - the Smaller the citizen!

---
One in seven Americans lives on food stamps
Believe it or not, one in seven Americans - 15 percent of the country - now need government-provided food stamps simply to survive, according to latest government figures.
Nearly 46 million Americans receive food stamps out of a population of some 311 million people, the US Department of Agriculture, which administers what's officially called the Supplemental Nutrition Assistance Programme reported Thursday.
The continued high unemployment and the weak US economy have contributed to the explosive growth of the food stamp programme with no end in sight to the monthly increases, CNN said noting that 27 million people were dependent on food stamps in October 2007.
Under the food stamps programme, an eligible individual gets $200 a month in food stamps - in the form of a debit card that can be used at supermarkets and stores to buy authorised food.
A two-person household gets $367 a month. A three-person household gets $526 a month. And a four-person household gets $668 a month.
---