by Jim Kouri
"I cannot compete with the local and national media machines that distort my record and the job I'm doing to protect this country. And, I don't have the personal resources to defend myself from these vicious attacks."
- Sheriff Joe Arpaio
In an effort to bypass the new media's "liberal filter," a mass mailing from the man known as "America's Sheriff" is being circulated to Americans to give them the unadulterated opinions of the lawman's lawman.
While the pleas from American citizens in Arizona and other states fell on deaf ears in Washington, DC, the violence and crime at the U.S.-Mexico border continues unabated. And instead of offering support for Arizona's initiatives to combat criminal aliens and their violence, the Obama Justice Department and Democrats in his own state continue to target Maricopa County Sheriff Joe Arpaio because of his tough immigration enforcement policy.
Meanwhile, according to MyFoxPhoenix.com, a man who requested anonymity claims his wife received a text message included an international phone number and instructions to pass the message along. The message placed a $1 million bounty on Sheriff Arpaio's head and a $1 thousand incentive to join the drug cartel..
Lisa Allen of the Sheriff's office told MyFoxPhoenix.com that they believe the message originated in Mexico. Although the Sheriff routinely received death threats in the past, they believe this threat is credible because of its timing.
"This is hardly earth-shattering news since Mexico has long represented the single greatest drug trafficking threat to the U.S., despite Uncle Sam's multi billion-dollar effort to halt the northbound flow of narcotics. The costly investment has failed miserably, according to a federal report that reveals Mexican heroin production has actually doubled in the last year," state officials from the public-interest group Judicial Watch.
The legal director of an influential national group La Raza that represents day laborers calls Arizona's immigration law an "unconstitutional, unwise and odious bill" created by "demagogue leaders" who have become folk heroes for "white supremacists" throughout the country.
Well, now Sheriff Joe Arpaio is speaking out to all Americans.
"I cannot compete with the local and national media machines that distort my record and the job I'm doing to protect this country. And, I don't have the personal resources to defend myself from these vicious attacks," said Arpaio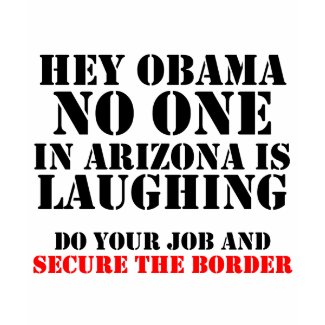 Ladies Baby Doll (Fitted)
by
worth_reading
Buy
t-shirts
at zazzle
"You... probably saw that a federal judge blocked the toughest parts of law before it was set to be enacted on July 29th. I still support this law 100%. Even before this law was passed and the judge blocked parts of it, I was the only law enforcement official in this state enforcing all the laws that our federal and state legislatures put in place to combat illegal immigration and human smuggling," said the popular law enforcement official.
"Because I have taken the lead over the years by enforcing existing state and federal laws against illegal immigration, I have become the target of attack by radical, left-wing, open-borders extremists," said Arpaio.
When asked about the people coming to Arizona to oppose immigration law enforcement -- commonly referred to as "carpetbaggers," Arpaio said, "I've been sued, picketed, burned in effigy and even had the Reverend Al Sharpton come to Phoenix – TWICE! – to march on my headquarters. Some have even gone so far as to call for my assassination! Now, the Mexican Drug Cartels have issued a "hit" on me."
"One of the local newspapers printed a political cartoon of me and our Governor wearing Nazi uniforms and performing the Nazi salute," he laughed. Showing he gives little credence to the neo-Stalinist tactics of the far-left.
"What these extremists really want is a Sheriff who will look the other way, be silent and allow the charade to continue, while ignoring the laws of our land. That, I promise, will never happen," said Arpaio.
"I won't back down. I won't surrender to politicians, thugs or drug dealers!"
Jim Kouri, CPP is currently fifth vice-president of the National Association of Chiefs of Police and he's a columnist for The Examiner (examiner.com) and New Media Alliance (thenma.org). In addition, he's a blogger for the Cheyenne, Wyoming Fox News Radio affiliate KGAB (www.kgab.com). Kouri also serves as political advisor for Emmy and Golden Globe winning actor Michael Moriarty.

He's former chief at a New York City housing project in Washington Heights nicknamed "Crack City" by reporters covering the drug war in the 1980s. In addition, he served as director of public safety at a New Jersey university and director of security for several major organizations. He's also served on the National Drug Task Force and trained police and security officers throughout the country. Kouri writes for many police and security magazines including Chief of Police, Police Times, The Narc Officer and others. He's a news writer and columnist for AmericanDaily.Com, MensNewsDaily.Com, MichNews.Com, and he's syndicated by AXcessNews.Com. Kouri appears regularly as on-air commentator for over 100 TV and radio news and talk shows including Fox News Channel, Oprah, McLaughlin Report, CNN Headline News, MTV, etc.
---