JOSEPH PHILLIP DE MARCO/NIGHT RIDER
AMIGO, DON'T BE ANGRY AT THE AMERICANS WHO WELCOME YOU HERE IF YOU ARE HERE VIA A LEGAL PROCESS, RATHER BE ANGRY AT YOUR NATIVE COUNTRY WHO HAS ABANDONED YOU.
YOU HAVE BEEN REJECTED, DISMISSED AND VOIDED BY YOUR OWN GOVERNMENT AND YOU SEEM TO BE CONTENT WITH THIS. WHY? YOUR COUNTRY IS RICH IN RESOURCES AND YOUR GOVERNMENT FORCES YOU TO FLEE INTO A NEIGHBORING COUNTRY; MAYBE, BECAUSE THEY ARE INEPT AT PROVIDING YOU WITH ECONOMIC OPPORTUNITIES. MAYBE, YOU ARE NOT DEMANDING ANYTHING FROM THEM BECAUSE YOU FEAR YOUR GOVERNMENT, YET, YOU DO NOT FEAR THIS GOVERNMENT. WHY? YOUR GOVERNMENT ABANDONED YOU AND NOW IS SCAPEGOATING NEVADA; FLORIDA; VIRGINIA AND OTHER SOVEREIGN STATES AS THE BLAME FOR YOUR INVASION AND ULTIMATELY, YOUR ENSLAVEMENT ONCE YOU ARRIVE. WHY? YOU ARE BEING MANIPULATED FROM BOTH SIDES FOR POLITICAL GAIN. YOU HAVE BECOME A TOOL FOR THE CORRUPT; YOU ARE AIDING AND ABETTING THEM: YOU ARE BEING 'USED'! WHY?
YOUR GOVERNMENT HAS LET YOU DOWN, VERY HARD! DO NOT TARGET US IN CONDEMNATION. AMIGO, WE WANT YOU HERE, LEGALLY. YOU SEE US AS YOUR ENEMY YET YOU WANT TO BE HERE AND REAP OUR BENEFITS AND OPPORTUNITIES. WHY? YOU WAVE YOUR NATIVE COUNTRY'S FLAG, IN DEFIANCE OF OUR FLAG AND INSULT US BY DOING SO. YOU ARE UNWANTED GUESTS, WHEN YOU ACT IN DEFIANCE OF OUR LAWS, YET YOU BEHAVE AS THOUGH YOU BELONG HERE WITHOUT ANY ADHERENCE TO THOSE LAWS. AMERICAN CITIZENS HAVE TO ABIDE BY THE LAWS, WHY DOES THIS NOT APPLY TO YOU?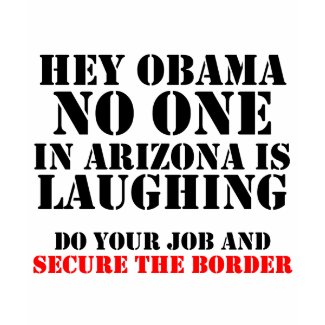 Ladies Baby Doll (Fitted)
by
worth_reading
Buy
t-shirts
at zazzle
WE ARE NOT YOUR ENEMY, YOUR NATIVE COUNTRY HAS DECLARED YOU A THREAT TO ITS EXISTENCE. YOUR INCOMPETENT GOVERNMENT FORCES YOU OUT BECAUSE THIS GOVERNMENT ENCOURAGES IT FOR POLITICAL GAIN. THEY ARE BOTH COMPLICIT IN THIS PLOT TO UNDERMINE OUR LAWS.
AMERICANS ARE CURRENTLY IN THE PROCESS OF TAKING BACK THEIR COUNTRY. YOU MUST TAKE YOUR COUNTRY BACK TOO! IF YOU DO NOT MAKE THAT EFFORT, YOU WILL BE WITH OUT A COUNTRY TO CALL YOUR OWN. THIS IS NOT YOUR COUNTRY IF YOU DO NOT ABIDE BY OUR IMMIGRATION LAWS AND LAWS OF THE LAND. YOU DO NOT BELONG WHERE YOU ARE IN DEFIANCE OF THE LAW! IF YOU DO NOT WANT TO RECLAIM YOUR COUNTRY, YOU WILL CLAIM DEFEAT FOR YOUR COUNTRYMEN AND YOURSELF, AMIGO.
WE ARE A SOVEREIGN PEOPLE AND YOU HAVE INVADED THAT SOVEREIGNTY. WE HAVE NOT INVADED YOUR COUNTRY'S SOVEREIGNTY AND YET YOUR ATTITUDE AND BELIEF IS THAT YOU HAVE ARIGHT TO DESECRATE OUR SOVEREIGNTY WITHOUT A SENSE OF REMORSE. THIS IS SOCIOPATHIC BEHAVIOR OF WHICH AMERICANS WILL NOT TOLERATE ANY LONGER.
AMIGO, IT IS TIME FOR YOU TO GO, AND START OVER AGAIN. WE ARE! SORRY, THAT IS BOTH OUR REALITIES.
---